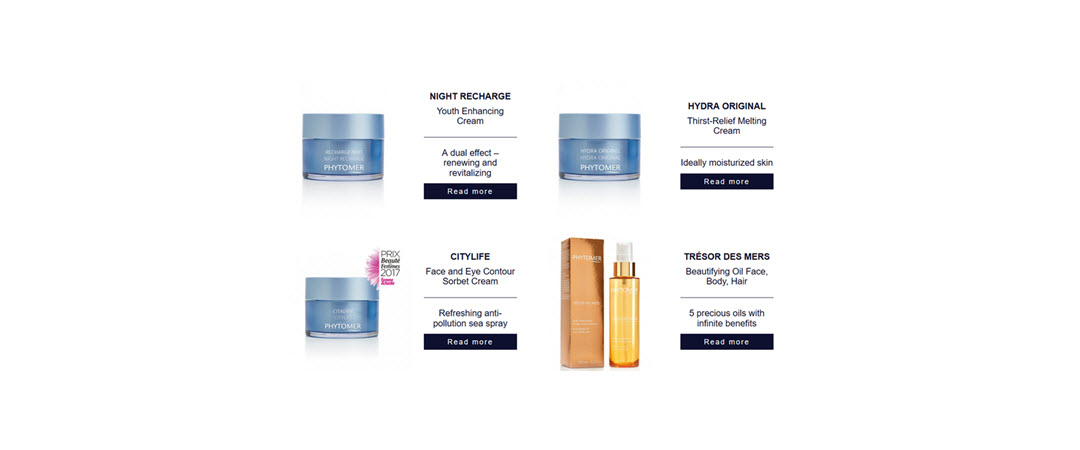 PHYTOMER SKIN CARE PRODUCTS IN MARBELLA
Beauty from the Sea
With 100% natural marine ingredients, Phytomer offers a complete line of safe, healthy beauty care products which incorporate the spirit and values of the sea.
Seawater and algae contain all of the trace elements, minerals and vitamins needed to hydrate, remineralise and rejuvenate the skin.
By giving your skin pure and healthy marine treatment products, it's getting all it needs for clean, radiant, healthy skin.
The Phytomer range is relaxing, innovative and extremely active.
At Connections Salon in Marbella we carry the complete range of Phytomer Skin Care Products and our therapists are fully trained on the extensive range of Phytomer treatments.
Their range includes :
Facial Range
Cleansing
Oxygenating
Defy Time
Moisturize
Soothe
Purify
Eye & Lip Contours
Men
Body Range
Contouring and Cellulite
Essential Body Care
Reenergize
Sun Care Range
If you would like more information please contact our Beauty Salon in Marbella on + 95 281 8402 or visit us.
Our salon is located in Nueva Andalucia, next to Puerto Banus
Connections Beauty Salon Marbella
Bookings & Information
If you would like to make a booking or some additional information please fill out the form below.
Alternatively, you are welcome to call the salon directly
Telephone :
(+34) 95 281 8402
SMS / Whats App :
(+34) 689 870 396
Email :
info@connectionsmarbella.com
Connections Beauty Salon
Conjunto Casano A, B4
Avenida Manolete sn
Nueva Andalucia, Marbella,
Malaga 29660
Spain
Mondays – Fridays
10-:00 – 18:30