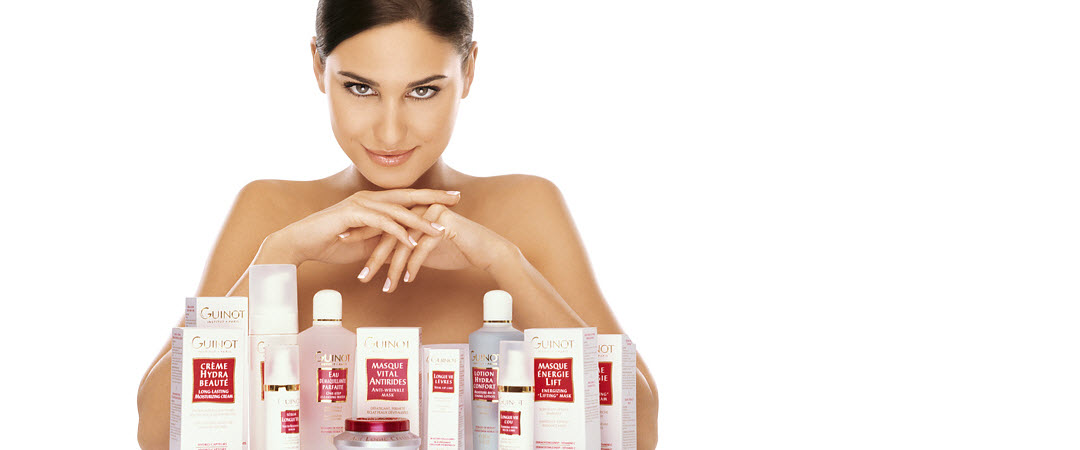 GUINOT SKIN CARE PRODUCTS
Guinot Skin Care products have been the reference in Skin Care for almost a century.
Back in 1930 M. Guinot, a chemical engineer, made an amazing discovery. He found that skin purification, through certain scientific in depth cleansing methods, could actually facilitate and ease the penetration of active ingredients used to treat the skin. Prior to that time, beauty products could just "sit" on the skin and not penetrate it.
Obviously, there was one more thing needed to facilitate the efficacy of active ingredients, and Guinot discovered it 35 years later! In 1965 he revolutionized the world of beautified skincare by inventing a process known as the Hydradermie as it is known in Spain, or Cathiodermie as it's known in English. This treatment uses a mild ionization process to make the skin specifically receptive to precise active ingredients.
The results, because they combine science as well as nature as used by well-trained skin therapists, are beyond astonishing as they apply their professional expertise on your skin. Using extracts of fruits and many different plants, the Guinot treatment borrows from nature first and then works with scientific galvanic currents carefully blended with high frequency currents, which ionizes the skin. This in turn provides not only the deepest cleansing of the skin in a very advanced scientific manner, but it will actually oxygenate the skin.
This is why the Guinot products which contain 56 vitamins, as well as proteins and amino acids, work at their highest efficacy within the confines of a spa or salon.
Not only are Guinot products used for rejuvenating skin but also there is even an anti-aging formula, a must in Marbella to combat the damaging effects of the sun.. This formula has taken the professional salon treatment beyond what can usually be accomplished; therefore you will see the youthful radiance that once shone in your face return though its diligent use. Only Guinot can offer specialized applications that actually return the tautness of your skin in this manner.
Guinot also has an extensive range of scientifically engendered skin products that work to embellish that rejuvenated skin using natural and gentle ingredients. These products for your eyes, lips, neck and hands can be expressly chosen just for you and your skin type at the Salon in Marbella  by our professional skin therapists. The products were specifically created for your individual continued home care that will completely and thoroughly address your skin's care.
Guinot has not forgotten the male sex either, as it now also offers specialized men's products to rejuvenate and strengthen their skin. Guinot has realized that men too require an essential skin care regimen as well as comprehensive treatments if they wish to look healthy and robust.
At Connections Face & Body Spa in Marbella we carry the complete range of Guinot Skin Care Products & offer the complete range of skin care treatments from Guinot.
If you would like to see a full lists of the Guinot Products we have in Marbella please click here
Please contact us for more information on + 34 95 281 8402 or visit our Salon in Marbella. The Beauty Salon is located in Nueva Andalucia, next to Puerto Banus.
Connections Beauty Salon Marbella
Bookings & Information
If you would like to make a booking or some additional information please fill out the form below. Alternatively, you are welcome to call the salon directly
Telephone : (+34) 95 281 8402 SMS / Whats App : (+34) 689 870 396 Email : info@connectionsmarbella.com
Connections Beauty Salon Conjunto Casano A, B4 Avenida Manolete sn Nueva Andalucia, Marbella, Malaga 29660 Spain
Mondays – Fridays 10-:00 – 18:30